CUSTOM BUILT BICYCLE FRAMES SINCE 1999     PH. 231-464-5611
-Built For You
-From Start-To-Finish
-Steel, Stainless, Aluminum Alloy and Titanium Frames and Bicycles
-Free Soil, Michigan, USA
Experience and Knowledge
As an avid cyclist since 1987, Scott Quiring's desire for his customers is that they will find his framebuilding to be of pragmatic design, of the highest quality, and something they'll want to ride.
Enduring Vision and Drive for Quality
Quiring's interest in framebuilding came about roughly two decades ago when, as an up-and-coming professional bicycle racer, he realized that he needed to count on having a great performing bike.  He recognized that a custom fit was paramount to achieving his goals, and that he needed a handbuilt frame which was reliable enough to get him to the finishline.
Today this vision continues as Quiring Cycles, LLC, where Scott painstakingly fabricates some of the World's best custom frames from Steel, Stainless Steel, Aluminum Alloy, and Titanium.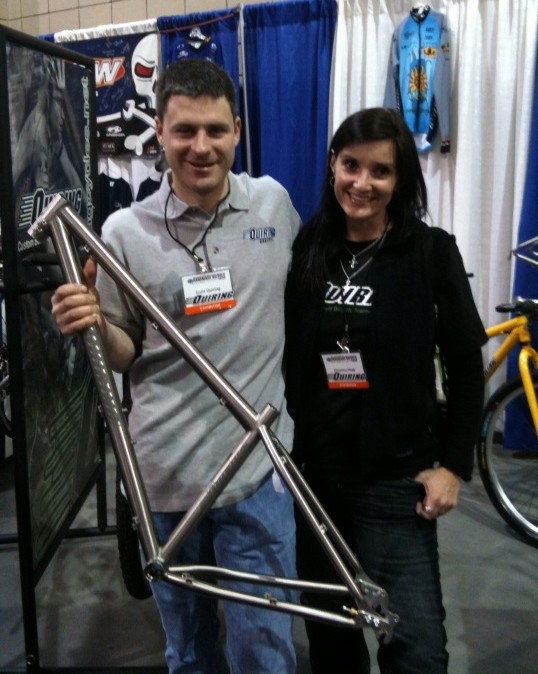 Innovation, Design, Craftsmanship, Passion
Quiring Cycles, LLC, the framebuilding company, is under the direct supervision of Scott who meticulously miters, methodically welds and applies a beautiful finish to each frame in an exclusive start-to-finish process.   Whether it is custom fit, to computer CAD/CNC design work, to special fixturing, to frame alignment, to painting of the bicycle, with passion Scott can build the frame of your dreams!
An Artisan's Touch
Scott encourages you to look around the site and consider his craft and, if you desire, to contact him for a custom-fit USA-made Quiring frame to meet your needs!